Cuando se habla de un héroe, normalmente, piensas en dibujos animados o en personas. En este caso, se trata de Teddy, un perro mestizo entre Poodle y Schnauzer.
Teddy se ha convertido en el héroe sin capa, y al mismo tiempo, en la terapia de su dueño. Se han dicho muchas veces que los perros son capaces de cambiar la vida de las personas, pues Teddy es uno de ellos.
La historia de Teddy
El dueño de Teddy, Andy Szasz, llevaba en coma inducido durante tres años. Cuando el diciembre de 2016, Teddy acudió al hospital con el fin de ayudar a despertar a su dueño del coma.
No fue ningún sueño, sino, una realidad. El perro de cinco años ayudó a despertar a su dueño de un coma.  Según el periódico The Times, los ladridos de Teddy hicieron que Andy despertase tres días antes de lo habían previsto los médicos.
"Después de cuatro días ladrándome y dándome besos en la cara, Teddy me despertó, dejando asombrado a los médicos. No se separó de mi, fue mi ángel guardián", explica Andy en una entrevista para la BBC.
Andy rescued Teddy, and Teddy wanted to return the favour 🐾

Posted by BBC Radio Solent on Thursday, February 7, 2019
La presencia de Teddy en el Hospital General de Southampton fue una gran sorpresa para todo el equipo médico, pero mucho más por lo que había conseguido. Andy se encontraba en cuidados intensivos tras enfermar con una neumonía mientras luchaba contra un cáncer intestinal desde el 2012. Una semana después de despertar fue dado de alta. Después de que la presencia de Teddy fuese tan milagrosa para Andy, los médicos decidieron que fuese a menudo al hospital para continuar con la recuperación del paciente. Una semana después de despertar fue dado de alta.
Incluso, meses después, Teddy paso a formar parte del equipo médico del hospital de Reino Unido, como perro terapia. Andy junto a Teddy forman parte del equipo de voluntarios de dueños de perros de terapia del hospital de Reino Unido.
Pacientes del hospital agradecen la presencia de Teddy, debido a que es una manera de distraer y pasar buenos momentos. "Es bueno tener a alguien que distraiga a los demás. Es adorable", explica un paciente en una entrevista para la BBC.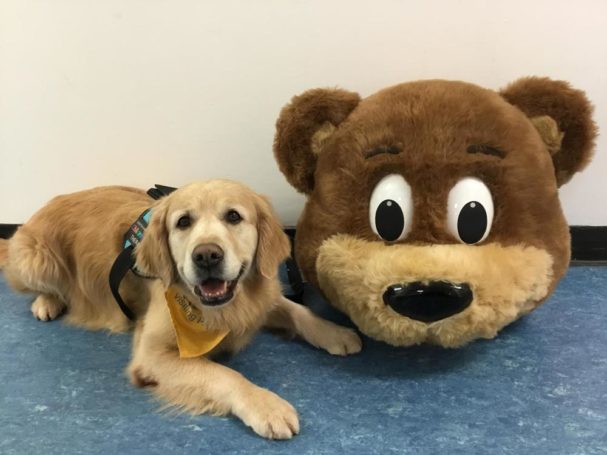 Teddy no es el único perro terapia del hospital, en este centro médico hay muchos dueños que colaboran con sus canes para ayudar a mejorar el ambiente y alegrar a los pacientes. Cómo es el caso de Jessie, la Golden Retriever de la fotografía de arriba.
¿Qué te parecen estos tipos de iniciativa? ¿Crees que se deberían incorporar también en España? Cuéntanos tu experiencia en redes sociales